Posts Tagged 'WTF?'
I, uh, there's a game and, uh, stuff is happening. Phillies double header. We were winning and yea. Guy was like "yo." and girl was like "sup." and guy was like "watch this, yo." and girl was like "ok." and then. Hah.
So in the bottom of the 8th with 2 outs while Vanimal was pitching, Chris Wheeler noticed how much Vance was sweating. Not surprisingly things got weird from there until the end of the inning. I can't really pinpoint a certain line by Wheeler to make fun of here because it is all so awkward/disgusting, but I can try. (The video is post-jump)
I mean, that's a serious sweater out there!
I don't know if Wheels knows that "sweater" is not a word used to describe someone who is sweating, but is rather an article of clothing. First I thought of that scene in Dumb and Dumber when the cop obviously confuses Harry's cardigan for a pullover, like Wheels mistaked Worley's jersey for a sweater. Then I thought about Wheels in a festive sweater that has shoulder pads.
Man I hope they give him a new one, cause that one's gonna be white tomorrow!
Hahaha no comment.
It was wet on days it wasn't even that hot!
That's what she said? Sorry, I know I mailed that one in.
Well, it is Vance!
I don't really get this, or any of it for that matter, but is Vance Worley already known for sweating a lot? I know I'm trying to make sense of something Chris Wheeler is saying which is like trying to make sense of an episode of Tim and Eric Awesome Show Great Job, but when even Tom McCarthy is left speechless, as close to speechless as he can come, you know it's bad.
Seriously, I owe @waverider15 some good old fashioned dry humping for this video. Follow him.
No matter how much baseball you watch, and believe you/me I watch a lot of baseball, you still typically see around 1 or 2 plays a week where you're like, "Yo – I ain't neva SEEN no shit like that befo'!" And that's what makes baseball such a beautiful game to follow.
UNLESS that spectacular play goes against the team you root for. Then it's some lucky bullshit.
Take last night for example: The Brewers pull Shawn Marcum out of the game to start the bottom of the 7th (which was odd in and of itself because he batted already in the top half), so the Phillies decide to get their offense going against the Milwaukee 'pen. After Carlos Ruiz grounded out to short, Wilson Valdez reached on an error by 3B Casey McGehee and Gload followed with a pinch-hit single inside the third base bag. After a Victorino fielder's choice scored Wilson Valdez to tie the game at 2, Placido Polanco (who was 2-for-3 at that point) stepped to the plate to try and give the Phillies the lead…
Let me remind you why we hate them so much. Seriously this is so bad. The only way this might be more embarrassing is if Adam "Pacman" Jones was doing the rap. I should have known to turn it off when it started with "Do you enjoy rap music, the New York Mets, and Ron Artest?". I'm actually going to sit here and write out the lyrics for all of you to enjoy, brb.
OK back, here they are:
You already know what it is, man. We the Mets from Queens. Worldwide warriors.

We lose a lot[Editor's Note: LOL]. It's all good. But right now we gonna try to win. We'll see what happens.

Let's go. I'm Ron Artest gettin crazy as it gets. Flyin round in jets and rep about the Mets and born in Queens raised at Shea go to shake shack with my man Jason Bay[Editor's Note: Jason Bay never played at Shea as a Met].

Win some, lose some the Mets dun dun. We just tell ourselves success is a nuisance[Editor's Note: Whatever helps you sleep at night].

I've got a ring, [Editor's Note: I think he says something about Greinke here, no fucking idea] Mets need 25 more to tie the los los Yankees[Editor's Note: Is this bragging?].

*bunch of gibberish* sitting to my left is my man Mr. Met. WHAT! [Editor's Note: /DMX'd]

We. The metropolitans of fun, what. We. The metropolitans of fun, what. No matter how many games are won we the metropolitans of fun[Editor's Note: Mets fans would probably beg to differ].

Big up to Keith Hernandez[Editor's Note: No offense, but he is probably sleeping], Kevin Elster, affordable bleacher seats, World Series champs 2087[Editor's Note: Serously he says two thousand eighty seven. A pretty safe guess of when they actually will win again. Maybe].

Ice cream in the helmets y'all[Editor's Note: LOL].

Mike Piazza bobble heads y'all[Editor's Note: Complete with bacne].

I gotta call Jason Bay, we supposed to meet for ice cream at 1:30[Editor's Note: Chooch does not approve].

1986, 1969, dot dot dot come on y'all let's step it up[Editor's Note: LOL].

Let's go Mets.
Wow. That is all I have to say. Wow. Oh and all those editor's notes.
(H/T to Big League Stew)
Why does this poor ball boy man look so damn bewildered? Well in the top of the 2nd inning Juan Castro hit a slow bouncing ball down the 3rd base line that stayed just fair and apparently this guy either was placed out on the field with no idea as to what he is supposed to be doing, or just decided to zone out. I'm guessing the former over the latter.
Let's take a look how he got to making this stupid face…
Not much I can say. Listen to the friggin music they used too.
Via The 700 Level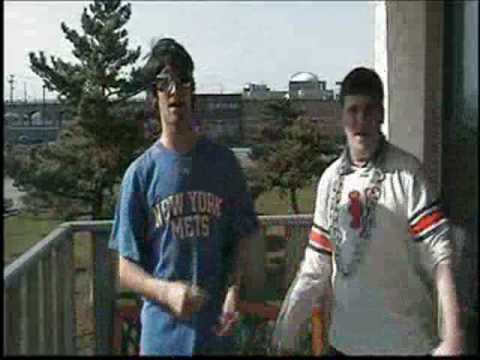 I really can't put into words what I am seeing here. It is like all my senses shut down while watching this video. Really all I feel is nausea. I will leave it to the fine commenters on this site to put into words the disgust I am experiencing right now, because I just can't do it.
H/T to @kierankelly from Phinally Philly
Okay, so MLB suspended Game 5 about two minutes after the Rays tied it up at 2 on a Carlos Pena base hit. Not complaining, jussaying.
According to some gigantic fellow name Bob Dupuy, if they don't finish the game tonight (which they won't), play will continue tomorrow with the score still tied at 2 from the point where it stopped in the bottom of the 6th. Unfortunately, tomorrow's weather is supposed to be worse than tonight. In that case, the game would continue on Wednesday.
In other words, Major League Baseball proves once again how incompetent they are.
You wanna hate someone? Here's that Bob Dupuy guy who relayed the information. Hate him: