Posts Tagged 'Joe Blanton'
(thanks, Crashburn.)
via the internet:
Joe Blanton was placed on the 15-day disabled list moments ago by the Phillies with something called a right medial impingement of the right elbow, and they have also recalled Vance Worley from the AAA IronPigs to start in Joe's place tomorrow. And according to a report I just saw on CSN, Carlos Ruiz is likely to avoid the disabled list, but will get a few days rest.
In 4 starts with the IronPigs in '11, Worley went 2-2 with a 2.78 ERA. He allowed 19 hits and 6 walks in 22.1 IP, and was top-5 in strikeouts among International League pitchers with 25.
Props go to All Star Twitterer ItsStephGrace.
Joe Blanton pitched seven effective innings as the Phillies took game three and the series from the Washington Nat – Wait, forget this.
Folks, this is what we refer to as a "victory lap," as the Phillies are assured to have the best record in the National League, and thus, home field advantage throughout the playoffs. It's a swell feeling to have, considering where the Phils were at in the middle of the season, with injuries galore and losses to the Pirates. *shudder*
Honestly, if I told you in July that the Phils Mike Sweeney, Ben Francisco, John Mayberry and Paul Hoover would be in the starting lineup in a game at the end of September, how terrified would you be of those circumstances? Rightfully so, I might add.
Anyhow, Ben Francisco hit a pair of homers, and Sweeney and Mayberry added with a pair of their own, and Joe Blanton  pitched very well over seven innings.
Jimmy Rollins started again, but didn't really do much, but I guess we should all be thankful that he is at least in the starting lineup these days.
Off day on Thursday, kids, and then it's onto Atlanta for the final three games of the regular season.
The Phillies moved one step closer to their fourth straight division title on Friday night following a 3-2 victory over the  New York Mets, on the strength of a fine start from Joe Blanton and just enough from the offense.
Shane Victorino led off the game with a solo homer, the first of his career, of Mets starter R.A. Dickey, and followed with an RBI double in the second to stake the Phils to the early lead.
The Mets returned fire in the fourth on a two-run shot from Angel Pagan, but the Phils came right back with an RBI double from Carlos Ruiz in the bottom half of the inning.
It was all offense the Phils could muster, but it was all that Blanton needed, as he pitched seven innings before handing the ball over to Ryan Madson and Brad Lidge, who closed out the Mets for the win.
One thing you won't read in the box score was the takeout slide that Chase Utley put on Mets second baseman Ruben Tejada during a 5-4-3 double play ball to end the fifth inning. Tejada wasn't hurt, and Utley didn't do anything terribly egregious except going in a little high and a bit late, but all things being equal, it was a clean play and one that we've seen a thousand times from a thousand different players.
However, the Mets seemed to think otherwise, as Mike Pelfrey was shouting to the Phils dugout during the game, while others had comments after the game. While no one said that Utley was going to get thrown out or taken out, it was obvious that they were not pleased with the incident. Oddly enough, Ruben Tejada had no issue with the play, and went as far as to say that Utley asked if he was okay immediately after the play ended. It's probably nothing, but it's worth keeping an eye on for tomorrow.
Back to more pressing issues. With the Phils winning and the Braves losing in Washington, the Phillies' magic number drops to two, menaing they could clinch the division as early as tomorrow.
They'll turn to Kyle Kendrick (10-9, 4.78) in the second game of the series, as he takes on Dillon Gee (1-1, 1.80).
Joe Blanton (W, 8-6) allowed two runs on six hits over seven innings. He walked one and struck out six.
Shane Victorino went 2 for 4 with a double (25), a leadoff homer (18) and two RBIs.
Raul Ibanez went 1 for 4 with a run.
Carlos Ruiz went 1 for 3 with an RBI.
Brad Lidge (S, 27) allowed one hit and struck out one in a scoreless ninth to earn the save.
R.A. Dickey (L, 11-8) allowed three runs (two earned) on eight hits in six innings. He walked two and struck out four.
Angel Pagan went 1 for 4 with a homer (11) and two RBIs.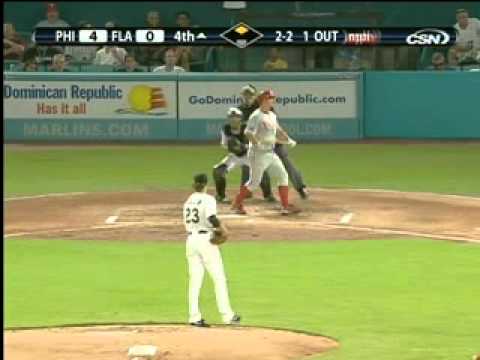 "FUCK!"
Thanks to @waverider15 for the sweet video.
The Phillies overcame sloppy defense and a leaky bullpen to set down the Marlins to take advantage of an Atlanta Braves loss, as they moved into first place for the first time since May 30.
Joe Blanton bounced back from his rough outing against the Colorado Rockies to allow two earned over six and a third, as Shane Victorino, Raul Ibanez and Ryan Howard all homered to give the Phils a lead in the middle innings.
The Marlins evened the score at seven apiece, thanks to a defensive gaffe from Jayson Werth, a balk from J.C. Romero, and a wild pitch from Ryan Madson, in a three-run-oh-my-god-this-team-doesn't-want-it eighth inning that came just short of being a certifiable disaster of a game.
But it is September, after all, and the Phils bounced right back in the bottom of the frame, when  Victorino blooped a single to center, stole second, and then came around to score on a single from Placido Polanco to give them a lead that they would not relinquish.
And just like that, the Phillies have come all the way back to seize control of first place in the National League East.
They'll look to add to that lead tomorrow, when Cole Hamels (9-10, 3.18) takes the mound against Andrew Miller (1-0, 3.60) in the series finale.
The Phillies used 12 runs and 15 hits to outslug the Rockies in a come-from-behind-but-almost-blow-it victory to pull to within two games of the Braves in the east, while extending their lead over the Giants to two in the Wild Card race.
Joe Blanton, fresh off a great start in San Diego, got knocked around early and often, lasting all of four and a third to put the Phils in an early hole to the Rockies. The Phils battled back, adding a run in the fourth, fifth, and six, before exploding with a nine-run seventh inning that saw them send 12 men to the plate.
After Placido Polanco doubled to lead off the inning and came around to score on a single from Chase Utley, Ryan Howard blasted one over the right field wall to pull the Phils to within a run. Jayson Werth wasted little time and added a solo shot of his own to tie the game at seven. A few batters later, Ben Francisco roped a one-out single to right to give the Phils the lead. The scoring frenzy was capped by Chase Utley, whose two-out grand slam put the Phils ahead, 12-7.
The Rockies fought back, plating three in the bottom half of the frame to come to within two. The score would remain that way until the ninth, when Brad Lidge traversed a rocky (not by his own accord) ninth inning to close out the game and secure the win for the Phils.
And just like that, the Phils are 6-1 in their last seven, and have hit multiple homers in three straight games while appearing to get their offense back on track.
But as good as the offense was, the pitching was just as bad, as only one pitcher, David Herndon, managed to put up a clean line on the night. I guess that's what happens when you play in Denver, though.
No matter, the Phils were the authors of another comeback win to wrap up the road trip and hopefully build some momentum before heading home for a series with the Milwaukee Brewers, as they set their eyes on the finish line of the 24-games-in-23-days gauntlet.
Cole Hamels (8-10, 3.31) takes the hill in game one opposite Chris Capuano (2-2, 5.06) at The Bank.
Joe Blanton (ND) allowed six runs (four earned) on 10 hits in 4.1 innings. He walked two and struck out three.
Jimmy Rollins went 1 for 5 with a run.
Placido Polano went 2 for 5 with a double (24) and a run.
Chase Utley went 2 for 4 with a grand slam (17), two runs and six RBIs.
Ryan Howard went 1 for 4 with a homer (25) and two RBIs.
Raul Ibanez went 2 for 5 with an RBI.
Shane Victorino went 2 for 5 with a run.
Brian Schneider went 1 for 4 with a run.
Antonio Bastardo (W, 1-0) allowed one run on four hits in an inning of work. He struck out two.
Brad Lidge (S, 19) allowed one unearned run on one hit and a walk, while striking out one.
Jhoulys Chacin (ND) allowed three runs (one earned) on five hits in 5.1 innings. He walked two and struck out three.
Eric Young Jr. went 2 for 6 with a double (4) and a run.
Dexter Fowler went 3 for 6 with a homer (4) and three RBIs.
Carlos Gonzalez went 3 for 5 with a homer (31) and an RBI.
Troy Tulowitzki went 3 for 5 with two RBIs.
Melvin Mora went 3 for 4 with a run.
Seth Smith went 2 for 4 with a double (16) and an RBI.
Chris Iannetta went 1 for 5 with a homer (8) and three RBIs.
The Phillies had all of three hits, but it was enough to back up Joe Blanton and the bullpen, who allowed one run to the Padres in the their second straight victory over the N.L. West leaders.
Blanton followed up his best start of the season with another solid effort by allowing one run over six innings, before giving way to the bullpen, who shut down the Pads with three perfect innings to close out the game.
The offense came from Shane Victorino, whose 2-for-4 outing resulted in two runs on the board, including a go-ahead RBI triple in the top of the seventh inning. Two batters later, Mike Sweeney beat out an inning-ending double play to score Shane from third to add to the lead.
It was a big day for Victorino, who also cut down the go-ahead run at home in the bottom of the fifth, when he cut down Nick Hundley at the plate after he tried to score from second base on a single from David Eckstein.
After getting swept in an embarrassing series at home, the Phillies have used timely hitting and strong pitching to take the first two of the series against the team with the best record in the N.L. to keep their lead in the Wild Card race, while closing in on the division leading Atltanta Braves.
The Phils will break out the brooms tomorrow, when Cole Hamels (7-10, 3.47) will look to complete the sweep against Clayton Richard (12-5, 3.55).
Joe Blanton (W, 6-6) allowed one run on six hits over six innings. He walked one and struck out three.
Jasyon Werth went 0 for 2 with a walk and two runs.
Shane Victorino went 2 for 4 with a triple (9) and two RBIs.
Brad Lidge (S, 18) struck out one in a perfect ninth inning.
Jon Garland (L, 13-9) allowed three runs on three hits in 6.1 innings. He walked three and struck out two.
Chris Denorfia went 1 for 3 with a double (11) and a run.