Posts Tagged 'David Wright'
There's another one after the jump.
It's like if Mighty Mouse decided to take up baseball. You look great, Shane:
MUCH better than that David Wright character.
Good ol' Davey Wright must got his feelings hurt by all those mean Mets fans who were saying bad things about his HUGE helmet the other night, so when he came to the plate in last night's game, he wore a variation of the hideous Rawlings S100.
Behold… THE DOUBLE FLAP!
So it appears as if the Dark Helmet/Great Gazoo jokes have to be put on hold until he wises up and chooses to switch back. Until then, courtesy of intuitive commenter and spot-on Wheels impersonator D.Whitmore, we have his new doppelgänger.
Mega Man:
In an un-The Fightins like maneuver, I had a personal embargo against Mets posts here for a while on the site. I just felt with all the injuries and shit they've had this year that it really wasn't fun to laugh at them while they were trotting out the Fernando Tatis' of the world as their number three hitter…
…but then David Wright had to get activated from the DL and wear this helmet:
HAHAHHAHAHAHAHAHAHAHAHHAHAHAHAHAHAHAHAHHAHAHHAHAHHAHAHHAHAHHAAHAHHAH
HAHAHHAHAHHAHAHAHAHHAHAHHAHAHHAHAHHAHHAHAHHAHAHHAHAHHAHAHHAHAHHAHAHH
AHAHAHHAAHAHAHHAHAHAHHAHAHHAHAHAHHAHAHHAHAHHAHAHHAHAHAHHAHHAHAHAHAHA
*catches breath*
BWAAAAHAHAHAHHAHAHAHHAHAHAHHAHAHAHHAHAHAAHHHAHAHHAHHAHAHHAHHAHAHAHHA
AHAHHAHAHAHAHHAHAHHAHAHHAHAHHHAHAHHAHHAHAHHAHAHHAHHAHAHHAHAHHAHHAHAH
AHHAHAHHAHHAHAAHHAHAHHAHHAHAHHAHAHHAHAHHAHAHHAHHAHAHHAHAHHAHAHHAHHAH
AHHAHAHHAHAHHAHAHHAHAHAHAHAHHAHAHHAHAHHAHAHHAHHAHAHHAHAHAHHAHAHHHAHA
HAHAHAHHAHAHHAHHAHAHHAHHAHAHHAHAHHAHAHHAHAHHAHAHHAHAHAHAHAHAHAHHAHAHA
In case you haven't noticed, that new Disney/Michael Bay "film" G-Force (OMG DYK that it's Michael Bay's first 3-D movie?) has teamed up with Major League Baseball to bombard you with shitty ads while you're trying to watch an All-Star game. And in order for baseball to properly promote this film, they of course had to seek out some MLB talent to record the commercials.
Now let's see… an over-hyped movie featuring gerbils that will do big at the box office but will ultimately disappoint mostly everyone who went to see it.   Which player would most closely match that description? 
Hmmmm…
OOOOH, I KNOW!  David Wright.
So that's who they got.  (Watch the full commercial HERE) 
Now here's the best part, looped for your enjoyment:
Last night on the Home Box Office, Phillies fan favorite Joe Buck debuted with his brand new talk show/sketch comedy show/clusterfuck, The Joe Buck Show. For the most part, the show seemed to lack a certain je ne sais quoi, but lodged somewhere in between Buck's unfunny monologue and an obnoxiously uncomfortable segment with Artie Lange, the FOX play-by-play man managed to get an interview out of the 3rd basemen for the hated Metros, David Wright. As the pair were nestled in the corner of a quaint New York restaurant deep in boring conversation, a Phillies fan happened stroll past the eatery.
But instead of leaving the two alone as the cameras rolled, he chose to tap on the glass, expose his Phillies jersey, and point to the finger normally reserved for World Series Champion rings. Observe:
That's just tremendous.
And judging by his awkward laugh, I'd imagine this sorta thing is a common occurrence in David's life.
As if going to a David Cook concert wasn't emasculating enough…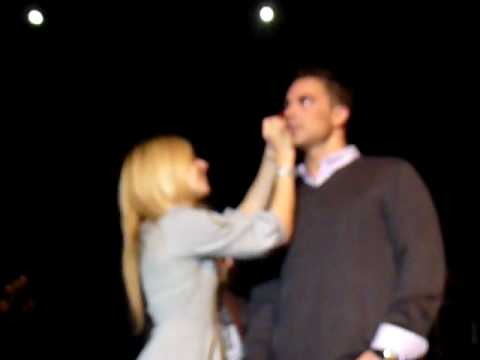 How cute! They dress alike and share make-up tips! Jose Reyes must be soo jealous right now.
(Seriously, who in their right mind roots for these guys?)
After the jump, same gay clip, different gay angle.
Following a questionable called third strike to end the top of the fifth, delicate Mets outfielder Ryan Church was livid; and directed his wrath towards poor homeplate umpire Dan Iassogna.  Ryan exchanged a few harsh words with the ump, made a squinty-face like he was gonna cwy, and got so irritated, he almost  –*gasp* — threw his bat!
Sensing that his teammate was in distress, on-deck batter David Wright quickly rushed to his aid.  In order to calm Church down, Wright put his arm around him and supplied much-needed words of encouragement on the way back to the dugout before delivering a heartfelt pat on his behind.  Afterall, Ryan is concussion-prone and Davey Wright didn't want him to get so worked up that his migraines flared up again*.  A noble gesture by a concerned teammate.
To commemorate, I've captured this loving moment in slideshow form:
* Ryan Church left the game after the 7th inning because his migraines flared up again.